A lifetime with sheep in the north – Michael & Anne Walton
Few people can have been involved with so many facets of the North's sheep industry as Michael Walton.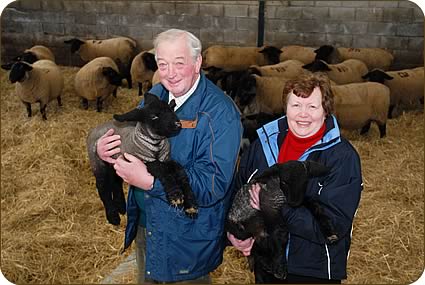 Michael and Anne Walton of Roseden, Wooler along with their pedigree Suffolk ewes and January born lambs.
First and foremost a Northumberland farmer and a noted breeder of pedigree sheep – Suffolks are his passion – Michael Walton is also an auctioneer and has conducted specialist sheep sales across the country for the last 30 years.
As well as specialising in the breeding and marketing of pedigree sheep, Mr Walton has also first hand experience of the other end of the food chain, selling commercial home produced lamb through the pioneering on-farm butchery and shop at Roseden, Wooperton, near Wooler established with his wife Anne in the early 1980s.
However, it came as a shock to Michael when he and Anne were presented with the TI Allinson Memorial Award for a lifetime achievement to the northern sheep industry by the National Sheep Association's northern region.
Not regular attenders of the annual meeting, Anne persuaded Michael to go along by telling him she was in line for an award.
"I was shocked but at the same time greatly honoured," said Michael, who received the award from outgoing regional chairman Carl Stephenson, of Bishop Auckland. "It is the first time Anne has managed to keep a secret from me!"
Julie Sedgewick, NSA Northern Region organiser said she was delighted that Michael and Anne Walton had been given the award from NSA northern region.
"They have both given advice, freely and unselfishly; Michael to the many pedigree and commercial sheep farmers, as well as young breeders and Anne who has given advice and support to many who have started up their own farm shops, promoting local produce," she said.
The award also coincides with Michael and Anne's retirement from farming and a move to their new home in Beadnell with the farm continuing to be run by their middle son Michael with his wife Trudi managing the family's farm shop.
The pedigree sheep which includes 40 Bluefaced Leicesters and 35 Texels have been purchased by the neighbouring Lilburn Farming Partnership and they will continue to be managed at Roseden by son Michael with his father acting as consultant.
Born at Roseden where the family has farmed since 1934, Michael Walton took over the farm 40 years ago from his father Joe along with the Roseden Suffolk flock which dates back to 1937.
The 120—ewe flock has won championships at all the regional shows and Mr Walton's aim to breed 'good commercial rams with flesh in the right places' has paid off with the top ram lambs selling well at society sales and shearlings regularly topping the averages at Kelso. Only last September (2006) 30 shearlings made the top average of £690.
Ram lambs and females are sold at society sales and Roseden Suffolks have also been sold to numerous European countries.
"Because the Suffolk is early maturing it has enabled us to sell into the early market when the price is at its best," said Mr Walton, who, while staying faithful to the Suffolk, has also recognised the need to move into more recent up and coming terminal sire breeds including the Texel and the Beltex.
Michael Walton followed in his father's footsteps onto the Suffolk Society Council and ultimately as president in 1984.
His knowledge also as a breeder of Bluefaced Leicesters, Blackfaces and Mules has led to him being invited to judge at most of the major shows throughout the country, including judging at Smithfield twice and at all of the Royal Shows. He has also judged Suffolks in Belgium and Holland.
Michael Walton's career as an auctioneer also came as a surprise to him, although he suspects his uncle RS Walton, who ran sales at Newcastle market but who had three daughters, was secretly grooming him for the role.
"I was 16 and we used to sell our fatstock from Roseden at the market on a Monday. My uncle asked me if I would get up on the planks and sell. That was the start of it. I remember they were old ewes but I can't remember how much they made!"
Michael was left the auctioneering business and when Newcastle mart closed he went on to manage the consortium of auctioneers which ran Tyneside market selling prime cattle, pigs and sheep until the site was sold 28 years ago.
Because of his connections with the Suffolk Sheep Society he was asked to set up a national show and sale for the south of England at Stoneleigh and he was official auctioneer for 22 years until stepping down last year to allow his son Andrew, who also farms at Preston Mains, to continue. The Waltons' youngest son Peter is forwards coach with Newcastle Falcons.
Michael has worked as a freelance auctioneer at many of the local markets and he has been the Bluefaced Leicester Association official auctioneer at the NSA Builth Wells sale since the early years. He has also been involved with United Auctions at Kelso.
He continues the farm valuation work he took on when his auctioneering career began.
The farm shop at Roseden was one of the first in the country when the Waltons started it in 1984 and the pioneering diversification was quick to be recognised not only by its now countrywide customers but also for winning an enterprise award within five years of opening.
"We felt we needed to broaden the business from just farming and to add value to our product," said Anne, who even at the age of 18 was enterprising with the pigs she owned, rapidly increasing numbers from just a sow and a boar to 30 sows enabling her to produce more weaners!
Michael attended to the butchery side of the business, which was set up without any grants, while Anne provided the home baking. Now up to eight local farmers' wives are involved with the baking to meet demand from passing tourist trade and regular orders from people in the region and those staying in self catering holiday accommodation.
Michael Walton has been a member of the National Sheep Association for many years, giving advice and support. In 2000 he was a valuable local member of the organising committee
for North Sheep 2000, held on the Duke of Northumberland's home farm, Hulne Park, at Alnwick.
A lifetime with sheep in the north – Michael & Anne Walton