Crest of a Wave for Strathisla Suffolk Carcase Quality
Crest of a Wave for Strathisla Suffolk Carcase Quality
07/11/07
Carcase quality is the driver behind one of the most successful Suffolk flocks in recent years, fourth time winner of the Society National flock competition, Robbie Wilson told more than 200 visitors at the champion's view day at North Dorlaithers, Turriff, Aberdeenshire.
The pen of 20 winning Strathisla ewe lambs.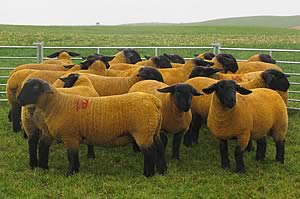 The win rounds up another flying year for Strathisla, who took the top price both at Edinburgh and the National, of 48,000gns and 10,000gns respectively.
"Carcase is my number one priority, I never look at the pedigree until I've looked at the carcase," he told the visitors that had travelled the length and breadth of the Society's province, the UK and Eire, last week (November 1). He said that carcase is first second and third priority, you only have to watch the bulls in Perth to know – it's the ones with the big back ends that make the most."Crest of a Wave for Strathisla Suffolk Carcase Quality