Suffolk Breed Changes to Commercial Targets
Suffolk Breed Changes to Commercial Targets
07/03/07
Suffolk Sheep Society members have been praised for embracing change. "You're changing faster than any other sheep breed, to meet the needs of today's market."
(Left to right) Society chairman, Jim Fleming, with speakers David Croston, former chief of EBLEX; Issac Crilly, NSA NI chairman and Dr Steven Johnson, Greenmount.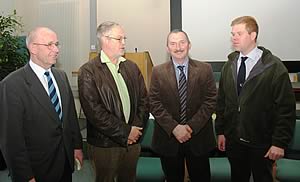 This was the message delivered by Dr Steven Johnson, Senior Beef and Sheep Technologist, to some 70 members at the Society's recent annual meeting, held at his Greenmount Campus base, Northern Ireland (Tues 28 Feb).
"With the removal of subsidies the main driver for profitable sheep production is to reduce costs and in particular labour costs. Carcase quality is no longer the dominant driver it once was," says Dr Johnson.
Today's demands were highlighted by leading commercial sheep breeder and chairman of the National Sheep Association (Northern Ireland Region), Issac Crilly. "We need to produce large numbers of lambs with minimum labour input, ease of management is absolutely essential on my farm where sheep are our only enterprise," Lees verder ……..
Suffolk Breed Changes to Commercial Targets