Andrew
now browsing by tag
Ease of management, early lambing and superior eating quality of finished lambs are just some of the attributes of the Oxford Down which has kept Andrew Rutherford faithful to the traditional British breed for the last two decades.
Lleyn ewe with Oxford cross lambs.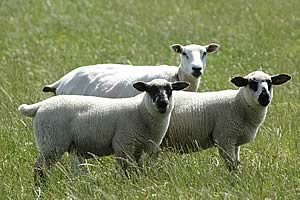 While the Oxford Down is classified as a minority breed by the Rare Breeds Survival Trust, renewed interest in traditional breeds of sheep and cattle has led to an increase in numbers and there are now 70 pedigree flocks in the UK.
Andrew is adopting the latest in technology to improve his Oxford Down flock by performance recording all ewes and rams as well as by speeding up genetic progress with embryo transfer to improve progeny both for sale and rams for use on the commercial flock of 500 Lleyn ewes.