Edinburgh
now browsing by tag
Op 10 september aanstaande vindt de jaarlijkse rammenveiling in Kelso weer plaats. Op 1 dag worden daar ca 5000 rammen geveild van veel verschillende schapenrassen.
De eerste verkoop werd in Kelso gehouden in de Knowes  (nu een parkeergarage) en wel in 1836 toen er een vereniging werd opgericht die optrad als scheidsrechter bij prive-verkopen. De eerste echte veiling werd in 1838 gehouden toen 120 rammen werden aangeboden tegen prijzen variërend van drie tot zes pond per stuk.
De volgende belangrijke datum was 1850 toen er een spoorlijn naar Kelso kwam, waarmee de weg voor "flockmasters" uit de regio werd geopend om op de Sales hun dieren te verkopen. In 1851 werden al 652 rammen aangeboden. In 1993 werd een omzet gerealiseerd van meer dan 2 miljoen pond. De aantallen zijn sinds 1999 geëgaliseerd toen er meer dan 600 rammen werden verkocht.
Er zijn tussen de vijf en zeshonderd afzenders uit alle hoeken van het Verenigd Koninkrijk en Ierland. In de laatste paar jaar zijn er ook rammen uitgevoerd naar Nederland, Duitsland en Ierland. Het is met recht de grootste en meest bekende rammenveiling in de wereld.
Ieder jaar worden er ook een heel aantal suffolkrammen aangeboden van de beste fokkerijen uit het Verenigd Konikrijk. Dit jaar is er aanbod van Sitlow, Strathisla, Essie, Cairness, Roseden, Drinkstone, Solwaybank en vele anderen.
De lijst van inzenders en hun dieren vindt u hier 
By Jonathan Long and Suffolk Sheep Society.
The 2010 Edinburgh sale had a 69% clearance rate.  This year's sale grossed £235,384 and averaged £1,929.38 for 122 ram lambs sold. 20,000gns was the top price paid to S Buckley's, Sitlow flock, for a Cairness Carbon son who had stood reserve the previous day.  R Wilson, Strathisla, who judged this year's sale was the final bidder with a third going to CA Proctor's Conveth flock.  Sitlow had the highest average of the day of £6,720 for four lambs sold.
The second highest price of 18,000gns was paid by the Robinson family from N Ireland for a Strathisla Sea Bird son.  This was the first lamb in a pen of nine from R Wilson.  The Strathisla flock went on to average £4,635.
S&W Tait had the third highest average on the day of £3,754 for five lambs sold.  The Burnview flock had a top call of 6,000gns selling to Mrs RH Goldie's Harpercroft flock.
JG Douglas had won the overall Champion by a lamb from the 1st place group of three.  This lamb by Baileys Bacchus was sold for 5,000gn.  However, it was the Cairness lamb by Fyvie Classic that had been placed third in the single ram class that obtained their highest price of 10,000gns.  Overall J Douglas ended the day to average £3,022 for nine lambs sold.
The Rhaeadr flock of M Evans from Wales received the third highest price of 12,000gns from the Barbour family from Annan.  This ram lamb is a son of Baileys BMW who has won the Royal Highland and Royal Welsh shows in 2010.  This was the icing on the cake for Myfyr who had a complete clearance of his eight lambs to average £3,137.
The fifth highest price of 9,000gns was paid to CA Proctor and Co.  The Conveth flock ended the day with an average of £2,373 for five lambs sold.
Mark Priestley, Limestone flock, received 7,000gns for a Strathisla Stoner son selling to B Nicholson.
The Middlemuir flock of Pat Machray received a top call of 5,00gns for a Cairness Stockbroker son.  Pat had one of his best days to go home with an average of £2,153 for his three lambs sold.
K&L Mair, Deveronside had a top price of 6,000gns for a Strathisla Sea Bird son.  This well fleshed lamb was finally knocked down in a joint purchase to C Holmes, Rookery flock and M Weaver, Perrinpit flock.  The Rookery flock also paid 5,500gns for an outstanding lamb from A Knox, Haddo flock
Last week's sale of Suffolk ram lambs at Edinburgh failed to produce the sparky trade of previous years, with the average falling by more than £200 on the year and 30 fewer lambs finding new homes.
Traditionally the dearest sale for the breed, this year it only managed a top price of 20,000gns, some 6000gns short of the best achieved at the previous week's National sale at Shrewsbury, with a number of the best prices paid by flockmasters dispersing their flocks later this year.
Taking the top call was the reserve champion from the pre-sale show, a Cairn ess Carbon son out of a dam by Strathisla Sinatra, which was also dam of last year's champion from Shrewsbury. Bred by Steven and Louise Buckley, Derbyshire, this one was bought in a two way split by the event's judge Robbie Wilson and Charles and Kevin Proctor.
Next best was an 18,000gns bid for the best from Mr Wilson's own Strathisla flock. This was a son of last year's Edinburgh champion Strathisla Sea Bird and is out of a dam by Glenho Gurka, which is herself full sister to 48,000gns sire Strathisla Dylan Thomas. Buying this one were Northern Irish breeders Alfred and Norman Robinson, Co Down.
And then at 12,000gns was the best of the day from Myfyr Evans Rhaeadr flock, Denbigh. Taking this price was a son of this year's Reserve interbreed from the Royal Highland, Baileys BMW. Out of a ewe by Cairness First Flight, he was knocked down to Iain Barbour for his Solwaybank flock, Annan.
Then, making 10,000gns was Jimmy Douglas with a lamb from his Cairness offering. This one, a Fyvie Classic son is out of a dam by Cragoe Craftsman. The only lamb by Classic this year, he sold to a brace of buyers, H P Sleigh and Sons for their Wells flock which will be dispersed later this year and Gordon Troup for his Whitestone flock.
Selling at 9000gns was a Cairness Achievement son from the Proctor family's Conveth flock. This triplet lamb is out of a dam by Castlewellan Nutcracker and sold with an index of 2.23. Taking this one home were a duo of Northumbrian buyers, Hugh Annett and Sons, Morpeth and Colin Campbell and Sons, Alnwick.
Following that sale at 7000gns was the top sale for Northern Irish consignor Mark Priestley of the Limestone flock. His best was a Strathisla Stoner sired lamb ET bred out of a dam by Castlewellan Tonto which has bred lambs to 7500gns previously. This one sold to Shetland-based Bryden Nicholson for his Innfield flock, another flock due to be dispersed later in the year.
Two then sold at the next best price of 6000gns with the first being a Baileys Headstart son out of a dam by Burnview Beamer from Willie Tait. Selling with an index of 3.28, he was first prize ram lamb at Balmoral show and sold to Helen Goldie, Dundonald.
The second at this money was a son of Strathisla Sea Bird from Barclay and Lucy Mair, Turriff. He is out of a dam by Meikleson Impression and was bought by Chris Holmes for the Rookery flock.
ADDITION
Champion was a Baileys Bacchus sired lamb from Jimmy Douglas out of  a dam by Cairness Renovator which is in turn out of a Glenisla ewe bred in the late Gordon Wilson's flock.
Average; 122 ram lambs £1929.38 (Lawrie and Symington).
Op de Suffolk sale in Edinburgh kocht Iain Barbour van Solwaybank deze Cairness ram voor bijna 62.000,00 pond. Zie hier een video van het biedingsproces met de verkoper en koper in de hoofdrol.
THERE was a top price of 32,000gns, a 70 per cent clearance and an average of £2,407 for 159 sold at the first Suffolk Sheep Society sale of the season held at Ingliston, Edinburgh.
Leading the trade was a ram lamb from the Solwaybank flock owned by 28-year-old Iain Barbour, Annan, Dumfries and Galloway. The ram is by Baileys Bugatti, out of a ewe by Glenhead Grandmaster and grand dam by Glenisla Grimaldi.
Returned compliment
The buyer was Tom and Jeff Bailey, Co. Meath, Eire, and late in the sale Iain Barbour returned the compliment paying 5,000gns for a Baileys ram lamb by Rhaeadr Rossi.
Mr Barbour led a string of new and younger vendors, including Gary Beacom, Kesh, Co. Fermanagh, who achieved 15,000gns for his ram by Shannagh Shergar, out of a dam by Strathisla Kingsway, jointly purchased by Brydon Nicholson, Innfield, Shetland and Robbie Wilson, Turiff, Aberdeenshire.
Selling three rams each Mr Barbour and Mr Beacom netted the highest averages, of £11,585 and £6,020, respectively, while Robbie Wilson nipped in a close third, averaging £5,973 on a powerful team of ten.
Mr Wilson sold two of the six five-figure rams sold. Firstly the show champion – this year's Royal Highland breed champion, a ram lamb by Strathisla Speed, out of a ewe by Glenho Gurkha with grand dam by Glenisla Godfather.
The hammer fell at 25,000gns to Alfred and Norman Robinson, Benrafton, Co. Down. Mr Wilson sold a second Speed lamb, this time out of a dam by Bawnogue Blazing Star for 10,000gns to G. Stuart, Birness, and R.H. Black, Collesie, Fife.
Belgian buyer
Fourth on the averages and third highest price – 20,000gns – went to Jimmy Douglas, Fraserburgh, Aberdeenshire, when Belgian buyer Claude Vanwijnsberghe, Waregem, used a strong euro to secure Douglas' first in ring, a ram by Cairness Renovator, out of a dam by Stockton Stardust and grand dam by Fordafourie Lochnagar.
With the largest consignment of the day Mr Douglas averaged £4,625 on 11 sold, including two selling at 7,000gns.
The sale's sixth five-figure ram selling at 11,000gns was from Myfyr Evans, Llanrhaeadr, Denbighshire.
His consignment of five also picked up the red ribbon in the pen of three class.
The 11,000gns ram was by Thurston Calzaghe and out of a dam by Plasllewelyn Prince of Wales and sold to father and daughter, Chris and Sally Holmes, Broadway, Worcestershire.
Also out of the pen of three came another ram by Calzaghe, realising 5,000gns selling to J.K. Teare, Isle of Man, while Hazel Martindale of Landale, Lockerbie, took home Evans' fourth prize ram lamb, by Baileys Blockbuster for 8,000gns.
The pace of the sale was set when two lots from the first consignment in the ring from C.A. Proctor and Co, Turriff, Aberdeenshire, took 5,000gns each. This was for a Strathisla Schumacher lamb purchased by Herbert Stanley, Bawnogue, Co. Laois and a lamb by Deveronside Whistleblower bought by S. and M. Liggett, Carony, Co. Tyrone.
A second prize ram lamb from George Stuart's Birness flock, Ellon, Aberdeenshire made 7,000gns. The ram by Castlewellan Eyecatcher was snapped up by John Campbell, Thrunton, Northumberland.
Auctioneers: United Auctions.
Click on images
Farmers Guardian – Solwaybank ram tops Edinburgh Suffolk Society sale at 32,000gns
vandaag 25 juli 2008, 2 uur geleden
The Taking Stock team has now hit Edinburgh and arrived in time to take a look at the Suffolk tup lambs penned for sale tomorrow before hitting the bar. Suffice to say after the drive from Builth to Carlisle last night and on here today we feel we've earned a beer and will be making sure we sample a full range in the interests of quality assurance!
I can report that Robbie Wilson of Strathisla took the championship with the same tup lamb he won the Highland with. To my mind the lamb is a touch short in the loin and lacks some flesh on top, but it's only my opinion and the general concensus is that he's the best lamb in the shed. I'm not going to try and predict a price, but the mood up at the showground was bouyant and I sense all is set well for a fair sale tomorrow.
Standing reserve was a lamb from Willie Tait's Burnview flock from Northern Ireland and I'm probably less keen on this sheep than I am the champion, but again I'm sure the big money spenders will be in action fighting for him tomorrow.
I'm minded to say that Conveth have a strong entry of lambs and being the first pen in the sale they may not be too dear either. A lot of their entry are by Strathisla Schumacher, so they have good lines behind them and were I in the market I may just be tempted, now where did I leave that cheque book?!
We'll be live at the ringside tomorrow
The Suffolk Sheep Society has postponed its National sale as a result of delays in availability of Bluetongue vaccine and resulting extension of the BT zones.
The sale will now take place on Friday, Saturday, August 8 and 9 at the Shrewsbury venue and is a joint sale with the Western Area.
A society spokesman explains: "It is hoped that postponing the sale will allow more vendors and purchasers to participate in the event. The new sale date coincided with the Western Area sale and therefore for this year only the National Sale will be a joint venture with the Western Area."
The new closing date for entries is Friday July 11. The Northern Area Sale is to take place at Edinburgh on 24 and 25 July, as scheduled.
For more information as available visit www.suffolksheep.org
Livestock | 11 April, 2008
The Hulme family has long been associated with pedigree Suffolks, having years of success at shows and sales with its Crosemanor flock. But a switch in focus means that is no longer the priority – in fact, having imported genetics from New Zealand, they could not be moving further away from their traditional bloodlines. JOANNE PUGH found out more.
Having spent decades building a reputation for producing and selling pedigree Suffolks, it may come as a shock to many that the Hulme family has completely changed its breeding goals.
Gone are the days of producing the type of Suffolks that brought them so much success in showring over the years – instead the focus is working with genetics that will 'do a job for the commercial producer'.
With the number of commercial farmers buying Crosemanor stock dropping significantly from the late 1990s, that is something the family feels it had been failing to do before.
Things started out well in 1952 when the late Stanley Hulme established the Crosemanor flock in the village of Cockshutt, Ellesmere, Shropshire, and gained momentum when son Robyn joined the business in 1977.
Successes at national shows and Suffolk Sheep Society events mounted up with home-bred Crosemanor Commandeur (sold in 1997 for 26,000gns) and part-owned Pankymoor Prelude having a significant impact on Suffolk breeding throughout the UK.
But by 2000, Robyn had begun to worry about the 'tail off' in commercial customers and if the business could survive in the future with two sons James (now 25) and Nick (18) both keen to come on board.
Spending time with a New Zealand Suffolk breeder visiting the UK proved to be the turning point and, following a three-week trip to the Southern Hemisphere, Robyn decided to make a departure from pure UK genetics and start blending them with NZ Suffolks instead, importing NZ embryos and semen from 2006.
This may appear to be in conflict with Robyn's long association with the Suffolk Sheep Society, having served as chairman and just finishing a term as commercial director.
But, he argued, he and his sons were putting into practice what the society had long been urging its members to do – produce stock to meet the needs of commercial farmers.
They want to emulate a New Zealand-style breeding company, producing rams with the sole aim of improving the profitability of the commercial guys who buy them, be it through increased meat yield and/or reduced inputs and labour.
While functional traits such as good feet and legs would still be high up the agenda, cosmetic traits would no longer be important, as nothing would be sold through a showring but privately off the farm with customers having access to detailed performance data.
"Call it what you want – a road to Damascus revelation or poacher turned game keeper – but I believe I've seen the light," said Robyn.
"It's a no-brainer and I'm not sure why I didn't see it sooner. It's a sustainable future and that's why everything is now in the names of James and Nick and not me."
Reflecting on where he had come from, Robyn said he was proud of what the Suffolk Sheep Society had achieved in recent years, embracing 'big, big' changes and encouraging the use of new tools like performance recording and gene markers.
He said his involvement with both the society and BASCO had been invaluable in termsof being able to meet the knowledgeable people that such organisations brought together.
The Hulme family still have a massive affection for 'proper' Suffolks, with James and Nick running a small pure-bred flock as a 'hobby' with the hope of one day achieving what neither their father or grandfather did – winning the Suffolk Sheep Society show and sale at Edinburgh.
"We still like proper Suffolks and, if I'm honest, we still like winning shows," said Robyn, describing it as an 'enormous pleasure' and 'real buzz'.
But those show Suffolks – bred for width, bone and blocky confirmation – could not be more different from the New Zealand Suffolks the Hulme family is now so taken with.
Robyn described them as 'functional' and 'wedge shaped' with CT scanning showing lots of meat in the back-end, despite initial visual appraisals perhaps suggesting otherwise.
This wedge also meant a wide pelvis, ideal for lambing ease, aided by finer boning in the head, shoulders and legs.
He said they had been drawn to them because the New Zealand sheep's development, in contrast to that of their UK ancestors, had been driven by a desire to reduce costs. This was immediately applicable to the UK, where too many sheep farmers were currently making a loss, he said.
The New Zealand breeders had, and were continuing to concentrate on, labour-intensive traits, such as worm resistance/resilience and lameness/footrot.
The Hulme family planned to continue this within their developing flock, performance recording 'everything' from lambing ease and suckling speed to dirty back ends and cold tolerance.
They were also great believers in gene markers, using all the tests available to them.
There were plans to start running a commercial flock – probably based on Lleyns – in the autumn to further test their Suffolk rams in 'real life' situations.
With so much enthusiasm, the real problem for the family is lack of numbers – but this is set to change with additional UK-bred pedigree Suffolks bought in last year, 200-head lambed in the last three months and plans are in place to increase to 500 breeding ewes by 2011.
The 700-acre mixed farm would then see the area of grassland increase from its current 150 acres. But the whole point of the NZ Suffolks was that no more staff would be needed other than the three already working full-time on the farm – James, one shepherd and one general farmworker – plus Nick, once he has finished college.
In early 2007, 30 NZ Suffolk ET lambs were born at Pikesend Farm, although to everyone's disappointment only 10 were female. Imported semen was also used on UK Suffolks to produce 10 half-and-half lambs.
This February, 60 ETs were born (30 female), reared by Welsh Mules recipients in the main. Aside from the 'show team', which lambed in January, everything else lambed in late March, having been inseminated with NZ-imported semen or served by home-bred NZ ram lambs.
Already 150 NZ embryos have been secured for implanting later in the year and there are plans to flush some
home-bred NZ ewe lambs. This, said the Hulmes, would not only increase numbers (especially as fresh embryos tended to hold better than frozen imports) but also form part of the future selection criteria and speed up genetic improvement.
All stock would continue to be 'graded up' using NZ genetics with no clear plan yet of whether to stop at three-quarter NZ or to keep going.
Robyn said such a decision was not top of their list of priorities, as when breeding for the commercial market it did not matter about cosmetic appearance or family histories – just hard performance data.
This was also his justification for using the 'myomax' gene marker. This identified a gene linked to higher meat yields – but it was not naturally found in Suffolks and so Texels, which did tend to carry the gene, had been used some years ago to introduce it into NZ Suffolk bloodlines.
Robyn said some breeders were against this idea of seven-eighth Suffolks being considered as pure-bred, but it did not bother him if it meant he could exploit genetics further to produce an even better product. Therefore, all the semen bought this year had two copies of the myomax gene.
"Rams are just a production tool – no different to fertiliser – and we should treat them as such, thinking of them purely as tools," he said.
Looking forward, the Hulmes said they were looking forward to selling large numbers of home-bred NZ Suffolk rams.
The intention had been to sell them as shearlings but demand for working ram lambs had meant a change of plan. Tests on their ram lambs had proven them to be fully fertile by 19 weeks of age.
Robyn said they would be able to serve 150 ewes as shearlings and, he believed, would live for longer (working for up to five seasons), further reducing input costs for those who purchased them.
They would not feed creep to any of their rams, believing heavy concentrate use reduced fertility and led to a shorter working life.
On the subject of feeding concentrates to pedigree rams, Robyn said it was something that 'ticked him off' because commercial farmers criticised it but then always bought the biggest rams at sales.
Therefore, pedigree breeders inevitably fed concentrates in order to gain size and compete against each other.
That was why he was pleased by the thought that the family would never sell their NZ Suffolks through a sale ring or make them 'compete in a beauty parade'.
Some of the 2007-born ET rams were sold last August with early reports from a selection of pedigree, commercial, outdoor and indoor-lambing enterprises looking very promising.
"There's a lot of them out there and we're getting good feedback," said Robyn. "The whole job is really exciting from where I'm sitting and it's going to be so much fun for us all.
"We passionately believe in what we're doing – it's good for our customers and good for the bank balance. I think that's why I'm now concentrating more on the next 20 years than the previous 20."
Suffolk breeders enjoyed another strong trade at their annual fixture at Shrewsbury last Saturday, when the top price was once again a five figure deal for a Strathisla entry from Robbie Wilson.However, this one was nearly one fifth of his Edinburgh topping bid of 48,000gns, with the hammer dropping at 10,000gns. Buyers for this lamb, a Glenho Gurka son out of a ewe by Glenhead the McCoy which had stood champion in the pre-sale show under judge John Elliot, were the Stuart family, Davishill.
Next top call was a 6000gns bid for a lamb from another leading Aberdeenshire breeder, Jimmy Douglas, Cairness.
His pen topper was the reserve champion from the show, a Glenhead Grandmaster son out of a dam by Stockton Sky's The Limit and with an index of 2.8 and sold to D Cranstone. His mother was top priced ewe lamb at Geoff Biddulph's Pexhill production sale in 2005.
Next among the high prices was the highest indexed Suffolk lamb in the UK this year, a Drinkstone sheep with a bumper index of 6.16 from Arnold and John Park. Sired by Ortum Supersire, this entry was bought by Lilburn Estate Farming Partnership, for 5200gns who last year bought the Walton family's Roseden flock.
Another Strathisla lamb followed closely on this one's heel's, selling for 5000gns to G and J Soulsby, Cumbria. Their choice was sired by Strathisla Schumacher, sire of Mr Wilson's Edinburgh topper and bred from a ewe by Glenhead McCoy.
In at 4500gns for a full brother to the champion were the Gould's, Buxton, Derbyshire. This lamb had taken third prize in the sale's newly established gigot class for Mr Wilson.
Also changing hands at this money was the top priced Perrinpit lamb from Roger and Michael Weaver. Buyer this time was Judith Barbour, Ewebank who took home this one by Solwaybank Ranger, bred in her brother Ian's flock.
Carrying an index of 4.42, the next highest bid of 4000gns came for Tom Cox's leading entry from his Tomcroft flock. This lamb is by homebred sire Tomcroft Persuader and out of a homebred dam by Muiresk Adrenaline. He sold to Tom and Charles Harding's Bentley flock and John Key of Sheffield.
Having been a dominant force at last week's Edinburgh sale, Irish property developer Tom Bailey made a four figure sale at 3500gns for his leading tup. Buyers on this occaission were Lilburn Estates again, taking home a Rhaeadr Rossi son out of a ewe by Bawnogue Hercules with a below breed average index of 1.04.
Average 149 ram lambs £1037.95 Auctioneers John Swan, Straker Chadwick and Halls.
Strathisla Suffolk Sheep Flock Open Day
26/10/07
One of the most successful and influential Suffolk sheep flocks from Aberdeenshire has won the Society's top flock award completing a hat-trick of top achievements for 2007.
Robbie Wilson, of Strathisla.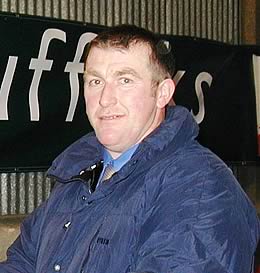 Robbie Wilson, of Strathisla is to be awarded the Suffolk Society's Bristol Gold Cup, for the best flock in the UK. He will open his farm at North Dorlaithers, Turriff, Aberdeenshire, on Thursday, November 1, when the champion flock can be viewed from 12 noon with prizes presented at 1.30pm.
Earlier this year Robbie took both the top price and top average at the Society's two premier sales: At Edinburgh Strathisla sold to £48,000 with a recorded lamb and then at the National Show and Sale he won the championship, which sold for top price of £10,000. He also took the male and reserve breed champion at the Royal Highland.