Royal Highland
now browsing by tag
All photo's by Robert Smith:Suffolks win the Interbreed pairs with Sandy Fraser's ewe lamb and Robert Wilson's tup lamb
A greatly admired show of Suffolk sheep were presented at the Royal Highland Show which culminated in the Suffolks  being awarded the Interbreed Pair Sheep Championship.
Find all results here.
Interbreed Pairs Champions
Sandy Fraser's Ewe Lamb & Robert Wilson's Ram Lamb
Sandy Fraser won the overall breed championship with a ewe lamb and Robert Wilson's ram lamb was awarded Reserve champion and Male Champion.
view the gallery below for photos of prize winners
Strathisla Suffolk Sheep Flock Open Day
26/10/07
One of the most successful and influential Suffolk sheep flocks from Aberdeenshire has won the Society's top flock award completing a hat-trick of top achievements for 2007.
Robbie Wilson, of Strathisla.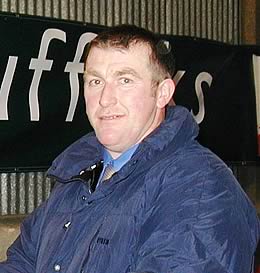 Robbie Wilson, of Strathisla is to be awarded the Suffolk Society's Bristol Gold Cup, for the best flock in the UK. He will open his farm at North Dorlaithers, Turriff, Aberdeenshire, on Thursday, November 1, when the champion flock can be viewed from 12 noon with prizes presented at 1.30pm.
Earlier this year Robbie took both the top price and top average at the Society's two premier sales: At Edinburgh Strathisla sold to £48,000 with a recorded lamb and then at the National Show and Sale he won the championship, which sold for top price of £10,000. He also took the male and reserve breed champion at the Royal Highland.