Suffolk Sheep Society
now browsing by tag
Since a few weeks the Suffolk Sheep Society 2012 Yearbook is out. You can view a e-book version here.
Happy reading!
Three Counties Show 17th – 19th June, 2011
Suffolk Sheep Results:
Judge: Mr R M Greig, South Tillydesk, Ellon, Aberdeenshire
Het seizoen voor de ooien veiling staat voor de deur. Hierbij een lijstje van de aangekondigde veilingen

Saturday 30th October
The annual production sale for G Beacom (Lakeview) and S&W
Tait (Burnview) will be held at Dungannon mart.  The sale starts at 1.30pm and will include 74 in lamb ewes and 8 ewe lambs.
To view sale catalogue click here
_______________________
Saturday 30th October
Dispersal sale of Manorhouse and Craven Flocks for David and John Calvert at Skipton mart.  The sale will include 67 ewes, gimmers and ewe lambs.  Four rams and two ram lambs will also be sold.  Contact 07831485590 or 01829262120 for more information.
___________________________________
Monday 1st November
The annual in lamb female sale for the NI Branch will be held at Ballymena mart. The sale will start at 7pm and will include 101 in lamb ewes and ewe lambs. Contact R McMullan +44 (0) 7703209945 for more information.
To view catalogue click here
_________________________________
Friday 5th November
Collective in lamb Suffolk sale at Carlisle mart.
__________________________________
Saturday 6th November
Collective sale of 80 in lamb ewes from A&S O'Keeffe (Annakisha and Clyda Flocks), S&S Gahan (Barrowlands), A&R Wilson (Castleisle and Shannagh Flocks) and A Collins (Cragroe).  The sale will be held at Blessington mart starting at 12.30pm.  Contact Jim Gahan for more information +353 (0) 87 6356808
___________________________________
Saturday 6th November
Annual Beeston Female Sale.
SUFFOLK SHEEP : THE 9th "WRIGHT MANLEY AUTUMN COLLECTION" Show & Sale of In-lamb Ewes and Gimmers and Ewe Lambs at Beeston Castle Auction, Nr Tarporley, Cheshire. (Sponsored by Farmers Guardian) Address: CW6 9NZ
___________________________________
De ooien zijn onlangs gescand op drachtigheid. Ik verwacht ruim 40 lammeren. Van ieder van de 4 ingezette rammen ongeveer 10 en dan uiteraard ook nog een paar van Cairness Carbon uit de Sitlow ooien. Die kwamen te laat aan om ook gescand te worden. Overigens zijn de eerste bestellingen voor de lammeren al geplaatst. Uit Spanje, Duitsland en Oostenrijk heb ik al de nodige aanvragen voor de lammeren.
Die Mutterschafe wurden kürzlich gescannt  auf Schwangerschaft. Ich erwarte mehr als 40 Lämmer. Von jeder der vier Böcke etwa 10 und dann natürlich auch ein paar von der Carbon Cairness bei die neue Sitlow Mutterschafe. Sie kamen zu spät, um auch gescannt zu werden. Auch die ersten Aufträge sind bereits gemacht für die Lämmer. Von Spanien, Deutschland und Österreich, habe ich alle schon Anwendungen für die Lämmer.
The ewes were recently scanned for pregnancy. I expect more than 40 lambs. Beside those there will be some extra of Carbon Cairness out of the new
Sitlow ewes. They came too late to also be scanned. Moreover, the first orders are already placed for the lambs. From Spain, Germany and Austria, I already got some enquiries for the lambs.
De Suffolk Sheep Society heeft besloten het bestaande identificatie systeem van jaarletters en volgnummers te vervangen door een systeem waarbij het schaap geïdentificeerd wordt aan de fokletters (in ons geval PFD), de laatste twee cijfers van het jaartal en een volgnummer. Mijn eerste lam dit jaar
zal dus het volgende stamboek nummer krijgen: " PFD 11 001″. De nummers moeten op het oormerk bijgevoegd worden. Dit systeem wordt bij meerder rassen in Engeland al gebruikt en ook de suffolks stappen daar naar toe over. De verplichting om te tatoeëren verdwijnt maar het 'notchen' (hapjes in de oren) blijft wel bestaan. Beide deed ik echter niet omdat ik het vervelend vindt maar ook omdat het in Nederland verboden is.
Tijdens mijn bezoek afgelopen weekend aan Schotland ben ik ook nog even op bezoek geweest bij Arnold en John Park om mijn ram Y68:N11 te bekijken die daar dit jaar is ingezet voorde fokkerij. Arnold gaf me een video die hij heeft laten maken van zijn jaarling rammen. Oordeel zelf.
Suffolk Breed Changes to Commercial Targets
07/03/07
Suffolk Sheep Society members have been praised for embracing change. "You're changing faster than any other sheep breed, to meet the needs of today's market."
(Left to right) Society chairman, Jim Fleming, with speakers David Croston, former chief of EBLEX; Issac Crilly, NSA NI chairman and Dr Steven Johnson, Greenmount.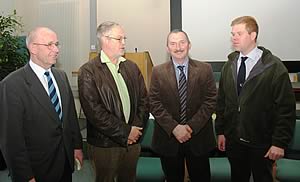 This was the message delivered by Dr Steven Johnson, Senior Beef and Sheep Technologist, to some 70 members at the Society's recent annual meeting, held at his Greenmount Campus base, Northern Ireland (Tues 28 Feb).
"With the removal of subsidies the main driver for profitable sheep production is to reduce costs and in particular labour costs. Carcase quality is no longer the dominant driver it once was," says Dr Johnson.
Today's demands were highlighted by leading commercial sheep breeder and chairman of the National Sheep Association (Northern Ireland Region), Issac Crilly. "We need to produce large numbers of lambs with minimum labour input, ease of management is absolutely essential on my farm where sheep are our only enterprise," Lees verder ……..