the National
now browsing by tag
By Jonathan Long on July 22, 2011 8:00 PM
The championship in today's pre-sale show at the National Suffolk Sale,Shrewsbury, has gone to Jimmy Douglas' Cairness flock.
Taking top honours was 33H:11:026, the Baileys Bacchus son which won the ram class earlier in the day. This one is out of a dam by Cairness Renovator which is sister to the dam of last year's Shrewsbury champion.
Reserve overall was the second prize ram lamb from the same class from Myfyr Evans' Rhaeadr flock. He is a Baileys Brigadier The Second son out of a dam by Thurston Calzaghe. This one is Myfyr's first in the catalogue, A12: 11:068 and goes back to a 6500gns Baileys ewe.
Taking the group of three class was Myfyr Evans with his trio, two Baileys BMW sons and one Baileys Brigadier The Second son (lots 143, 144 and 145). Second group of three went to Robbie Wilson, Strathisla, with one by Strathisla Sea Bird, another by Cairness Stockbroker and one by Glenhead Golden Phoenix (lots 153, 154 and 155). Third place here went to John Sinnett, Stockton, with a pair by Stockton Thriller The Second and one by Stockton Lad The Second (lots 92,94 and 96).
In the best Gigot class the winner was Stuart Davies, Beaufort, with a Glenhead Golden Phoenix son out of a dam by Strathisla Massa, this was LTD:11:016.
Second in this class was Ross Lawrence, Roundacre, with a Strathbeg Stan The Man son out of a dam by Glenho Gurka, and third was George Stuart, Birness, with a Rhaeadr Flash Harry son out of a dam by Castlewellan Crackshot.
Crest of a Wave for Strathisla Suffolk Carcase Quality
07/11/07
Carcase quality is the driver behind one of the most successful Suffolk flocks in recent years, fourth time winner of the Society National flock competition, Robbie Wilson told more than 200 visitors at the champion's view day at North Dorlaithers, Turriff, Aberdeenshire.
The pen of 20 winning Strathisla ewe lambs.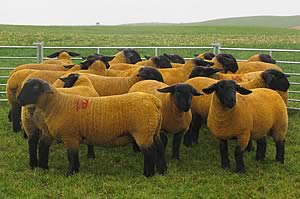 The win rounds up another flying year for Strathisla, who took the top price both at Edinburgh and the National, of 48,000gns and 10,000gns respectively.
"Carcase is my number one priority, I never look at the pedigree until I've looked at the carcase," he told the visitors that had travelled the length and breadth of the Society's province, the UK and Eire, last week (November 1). He said that carcase is first second and third priority, you only have to watch the bulls in Perth to know – it's the ones with the big back ends that make the most."Crest of a Wave for Strathisla Suffolk Carcase Quality