Vaccination
now browsing by tag
Gene markers on test on Suffolk sheep
09/07/2007 00:00:00
FWi
Suffolk sheep breeders will be some of the first in the UK to benefit from gene markers developed in New Zealand for footrot tolerance and cold survival.

Speaking via a phone link at the Royal Show, Jon Hickford, of Lincoln University, New Zealand, told a briefing that by selecting for footrot tolerance it was possible to greatly reduce the time and money spent controlling and treating foot-rot, particularly vaccination and foot bathing chemical costs.

"New Zealand's experience suggests savings of about £2 a head could be made. The New Zealand wool industry is predicted to make savings of about NZ$24m (£9m) in the next 10 years."

Dr Hickford said the cold survival gene marker could identify sheep with vigour and those with the ability to thrive from birth. "Lambs are ranked on three scores – A, B and C – and the idea is to avoid breeding from animals scoring C, rather than forcefully breeding towards sheep scoring A and B.
"A sheep with a C score is four times more likely to die of cold at birth than one scoring A," he said. The test is linked to brown fat mobilisation at birth, as lambs who mobilise brown fat quicker are faster to get up and suck and thus have increased survival rates.
Suffolk Sheep Society commercial director Robyn Hulme said it was important for the breed to be at the forefront of such developments and ensure commercial ram buyers were given the chance to buy rams best equipped for their situations.
But MLC sheep and beef scientist Duncan Pullar said that, while the tests looked promising, it was essential to validate them under UK conditions before they were roled out on a wider scale.
Gene markers on test on Suffolk sheep – 09/07/2007 – FarmersWeekly
New Stocks of Sheep Vaccine Offer Effective Relief from Footrot
17/12/07
Sheep farmers can break free from the footrot cycle by implementing a whole-flock control programme of vaccination thanks to new supplies of a footrot vaccine.
Sheep farmers can break the footrot cycle by carrying out whole-flock vaccination.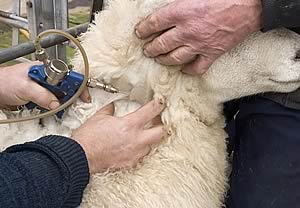 Footrot is the most common cause of lameness amongst sheep and is one of the most important health and welfare issues facing British sheep farmers. The disease, which can result in reduced mobility, impaired fertility and reduced growth rates in lambs, is caused by two different bacterial infections: Fusobacterium necrophorum which infects the hoof space and Dichelobacter nodosus which causes subsequent infection in the foot itself.
Paul Williams MRCVS from Schering-Plough Animal Health states that, "Once footrot enters the flock, both animals and financial margins are likely to suffer. This is because sheep will lose body condition and rams will fail to perform properly. These factors can result in lower lambing percentages and higher mortality rates in lambs, which will generally be much smaller at birth due to their mother's suffering.
"Ultimately, farm profits will be hit, not only by the loss of lambs and lower finishing weights, but also because of the additional costs associated with treating diseased animals, such as the administration of antibiotics and the time consuming process of walking sheep through expensive footbath products."
New Stocks of Sheep Vaccine Offer Effective Relief from Footrot